Overview: This article speculates whether Truth Social username will cost its users and how to claim your username on Truth Social Media app by Donald Trump.
For months, Trump has teased the introduction of Truth Social. Rep. Devin Nunes (R-Calif.) revealed recently that he would resign from Congress to serve as the platform's CEO. He takes over a company that has previously been targeted by trolls and is the subject of a federal inquiry.
Truth Social Username – How to claim your Username on Truth Social
Trump isn't going to allow these roadblocks to getting in his way. A consortium of investors is said to have raised $1 billion for Truth Social.
To this point, Truth Social had been described as "a landing page with a signup sheet." The number of users that have signed up for the platform is unknown. Some worry that the company's value will be determined by the number of people who sign up for the site.
Truth Social app is going to be released on February 21, 2022.
Trump appears to have teamed up with the National Republican Senatorial Committee (NRSC) in order to boost voter registration and collect funds. People started receiving SMS urging them to join Truth Social.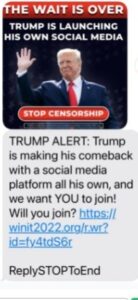 A screenshot of one of these texts was obtained by The Daily Dot. "The wait has ended," it offers. "TRUMP ALERT: Trump is making a comeback with his own social media platform, and we want YOU to be a part of it!" it states. The link in the text takes you to a page where you can join up for the platform. You will be directed to the NRSC's WinRed fundraising page to reserve your username once you submit your name on the page given in the text.
However, there is a catch. You must donate to the NRSC in order to reserve a username. If you try to submit without donating, you'll see "This field is required" in the donation section.
You can "join the waiting list" for free on Truth Social's site, but you can't reserve a username. A request submitted through Trump's website seeking confirmation that he'd collaborated with the NRSC to urge people to join up for Truth Social and donate to the committee was not immediately returned.
Because the site doesn't provide any confirmation and it's currently not possible to sign in to the platform, it's unclear whether this is purely marketing or whether a donation will genuinely reserve your username.


Those who sign up for Truth Social on the NRSC's portal are bombarded with up to four messages each day requesting additional funds. The texts are sent from the NRSC's phone number and include links to the organization's donation site as well as pleas like, "[W]e've reached out FOUR TIMES already!" To assist RETAKE TRUMP'S MAJORITY" and "Stop Ignoring…!" take our Trump Patriot Poll here. Let us know what your Trump social media handle is! To correct the record, go HERE." The NRSC did not reply to calls for comment.
The NRSC's Truth Social page for reserving a username pre-selects monthly recurring donations. Under huge, bold writing about being a "top Trump supporter" and how much he "needs you," the notice that it's a recurring payment is written in a smaller, lighter type.