Former US President Donald Trump on Wednesday, 20 October, announced the impending launch of his own social media network named "TRUTH Social." He stated he established this network intending to offer a voice to everyone. The United States is not what we have known of before, the USA has turned itself into a country that censors true free speech every day. The former Republican president is certainly not the one who can be bow down in front of all these social media giants. In this article, we are going to have a look at how to join the Truth Social Media app waitlist. Make sure you read this article till the end
Video Explanation of Truth Social App – Watch Video below

What Is The Truth Social Media App By Donald Trump?
Truth Social media app is America's "Big Tent" social media network established by the former president, Donald Trump. That's why the TRUTH social app is also being dubbed as the Trump social media app. It is owned by Trump Media & Technology Group (TMTG) and sold on Appstore through T Media Tech LLC promotes an open, free and honest worldwide conversation without differences in political viewpoints.
Truth Social Media App Features Explained
Truth social media app has all the features of popular social media apps, and has some even better and optimized features, let's have a look at them
Express your individuality by customizing your profile, avatar, and background. Start monitoring your
connections via the history of your posts and likes, along with followers and following numbers.
Get the scoop on the newest ideas and actions from the people, organizations, and news sources that interest you. The TRUTH feed includes all the posts you follow with the aid of thumbnail pictures, links, etc.
Truth Social begins to get fascinating as you interact with others. Find voices that interest you and
simply follow them from the search list or check out their profile before making a choice.
Stay active as you develop a following. See who is following you and who is engaging with your truth.
How To Join Truth Social Media App On Android?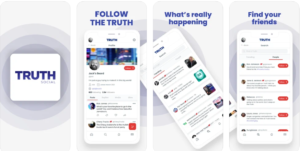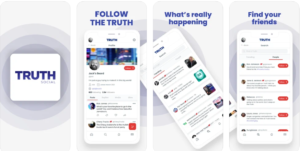 Donald Trump Social Media App or Truth Social App is now available for pre-order on Apple
Appstore. It is not released on Android Devices. As soon as the "Trump Truth Social App" will be
available for Android, you may follow the steps provided below to join Truth social media app waitlist on Android:
To download the Truth Social for android, you need to open the Google Play store first.

Then type the "Truth Social" and search it.

Once you locate it, select the app which is released by T Media Tech LLC.

After that click on the Install button and 

Wait

 for it to be installed properly.
How To Join Truth's Social Media App On iPhone?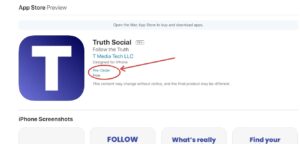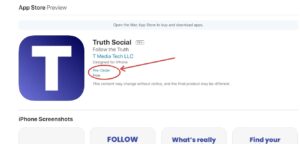 Currently, Trump social media app or Truth Social is available for Pre-Order, you can simply Pre-Order and pre-register using the following website and instructions. because it is accessible on the Apple Appstore for iPhone, iPad, and iOS users. Follow these steps to register for Truth social media by Donald Trump on iPhone:
First of all, you need to go to Apple Appstore for Pre-order

 

Then search the "Truth Social" or "trump social media app" in the search box.

 
You must choose the app released by T Media Tech LLC.

 
Finally, 

Tap

 on the pre-order option and install it on your iPhone.

 
How To Join Truth Social Media Waitlist Online?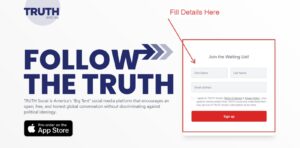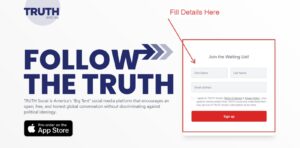 You may simply join the Truth Social Trump waiting list by following these steps: 
First of all, visit the official website Truth Social by clicking here.

 
Then see the "Join 

The

 Waiting list!" form.

 
Now, provide your First name, Last name, and email address.

Next click on the registration button.