New Delhi: 'Rang De Basanti' fame Siddharth had to face serious criticism on microblogging site Twitter on Monday, after his 'sexist' tweet on badminton player Saina Nehwal went viral.
The derogatory remark came in response to Nehwal's tweet wherein she condemned PM Narendra Modi's convoy's security breach in Punjab's Ferozepur on January 5.
Nehwal had wrote, "No nation can claim itself to be safe if the security of its own PM gets compromised. I condemn, in the strongest words possible, the cowardly attack on PM Modi by anarchists. #BharatStandsWithModi #PMModi (sic)."
Replying to Saina, the actor allegedly used a sexually disparaging remark for the ace sports star. Siddharth's tweet read, "Subtle cock champion of the world… Thank God we have protectors of India (sic)."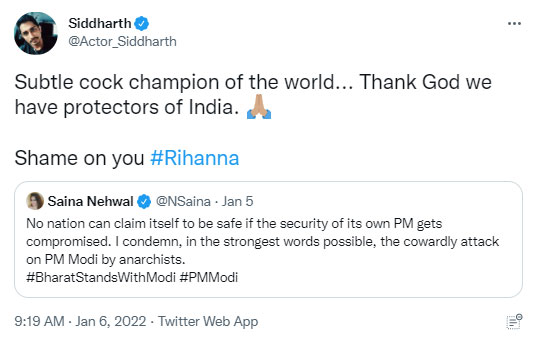 The slang 'Cock' is often used for the male sexual organ. To many on social media, Siddharth's tweet appeared as if he has twisted 'shuttlecock' in a certain manner, trying to insult Nehwal in a sexual manner.
As the tweet went viral, Netizens started trolling the Tamil actor for his disrespectful use of words for the Olympic medalist.
Flop actor @Actor_Siddharth commenting on Olympic medalist pic.twitter.com/GrdnvM36gV

— Girish (Headhunter) (@girishs2) January 9, 2022
@NCWIndia @sharmarekha Please investigate into this highly deragatory objectionable language-tweet used against a Champion player who's done India proud. The offender has attempted to harass a female solely for expressing her political views.

— PranavThackur (@ThackurTweets) January 9, 2022
Says a flop actor referring to a "Olympic Medallist"

— Alpaca Girl🇮🇳 (@alpakanya) January 10, 2022
This is the kind of attitude roadside chhapris like @actor_siddharth have for women who are successful and slog all their life to make a mark in their career and bring glory to the nation. Wonder how parents raise such samples. These patriarch predators are threat to the society. pic.twitter.com/K9vfVVF48c

— Keh Ke Peheno (@coolfunnytshirt) January 10, 2022
He won't be arrested for hurting the modesty of a woman.. because he is hurting the modesty of a woman who praises Modi.

— Ashwatthama (@_Ashwatthama_) January 10, 2022