ADIZA Designs, founded by Radhika & Shivam Phukela, is a next-generation highly creative designing agency. They are a team of young and talented designers who emphasise working within budget requirements.
After putting years of hard work in this field by serving in a  matrimonial company, working in Cherish Banquets, and various small co-work spaces, now this talented Adiza designs is turning 3, who in this small gap of time have given birth to multiple brands and identities.
Not only this, but they have also proudly managed to start their new wing called Weddings by Adiza Designs, efficiently running under the supervision of both of them.
Today, Adiza designs work with both emerging as well as established sectors from hospitality, wedding planning, events and media to public figures, Fashion stores, salons, cosmetics, jewellery, IT and much more leading an efficient and dedicated team. They work with one of the most amazing brands from different fields such as Bar Exchange, The Yellow Chilly Amritsar, Cherish Banquets, The Prizm, Yours Eventfully, Februus Organise, Early Ayurveda, Manyam Events, Encasa Events, Lavanya events, Best group of companies, Rimaya Jewellery, Globe, and many more.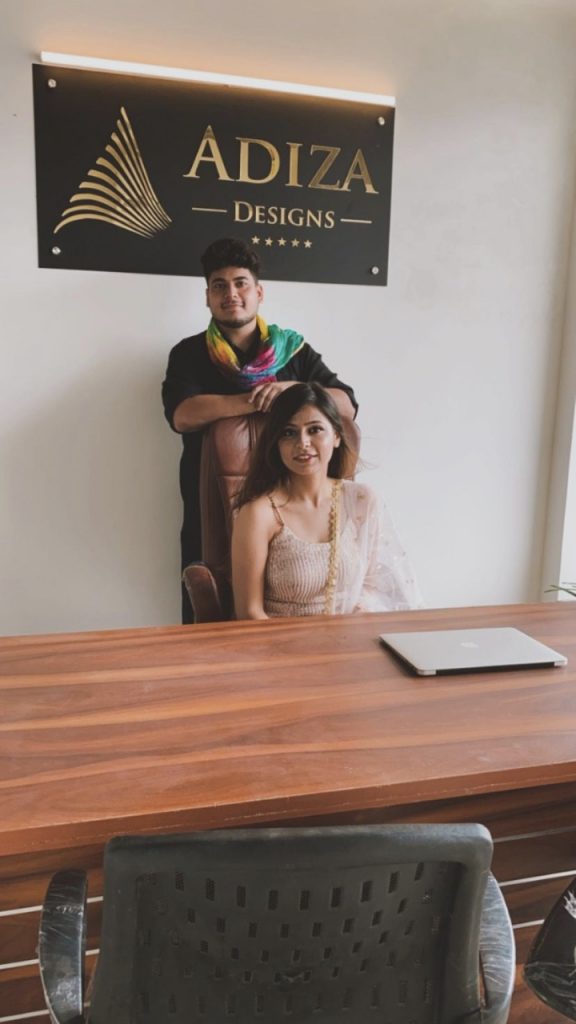 They have also put their efforts in a leading National project with the Indian Space Research Organisation – ISRO and an International project such as a Live-in concert of Mika Singh and Daler Mehndi back in 2017 in Dubai, World Trade Centre.
Team Adiza mix left and right brain people, working together to go beyond what's expected. They understand crafting your message and targetting the right audience by creating beautifully coloured and textured illustrations.
Their approach has always been to break the agency and client gap and incubate themselves into every client's team for the best output. They start a conversation, listen to the client and turn their mindsets into action.
The best thing about working with these young entrepreneurs is that 'Personalisation' and 'Commitment' are key factors for them while working with their clients.
Rightly said by Team Adiza: We see ourselves as valuable additions to our client's team and are proud of our relationship with them.
Working as a team is the main objective for them, thus creating great opportunities and success for all who are a part of the business. With solid experience, this team is creating the courage to call themselves a 360° Marketing Agency.